Thought I'd do a bit of a write-up/review of my newest toy, a Maverick ET-7. I've really appreciated and learned from others who have posted at bbq sites, so this is my way of hopefully helping out anyone who's interested in these types of devices.
Took advantage of the free postage offer from bbqsplus. Rang the store, told the lady what I wanted, mentioned the forums I was on, (but I don't know if it mattered) gave my postage and credit card details and 2 days later it arrives. May usually be next day delivery, but I did ring late in the day and may have missed the mail. Can't get much easier than that. Thumbs up to bbqsplus.
So, here's how I went with it.
1st off, if you're like me, read the instructions. I didn't, and spent 5 minutes trying to figure out where to plug the 2 probes in to, in the base unit.
Eventually I realised the smaller black unit is the transmitter and you keep the big informative silver unit with you.
Played around with all the buttons making everything flash and beep and everything else, then down to actually using it.
Fired up 2 webers, and did pork on one and beef on the other. Plugged 1 probe in to each piece of meat, rested the transmitter on a bucket away from the heat, turned on the base unit, waited about 10 seconds, then turned on the transmitter and it all synced up nicely.
Probes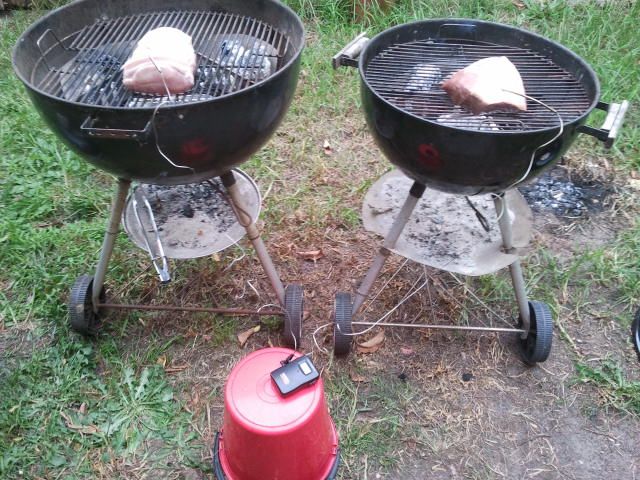 You can scroll through the 5 pre-set meat types, Beef, Veal, Lamb, Pork and chicken, choose which meat you have, then choose between 4 preset cook types, from Rare,
medium rare, medium and well done.
This will set the temp alarm to a USDA temperature guide, (Beef well done at 170f) but you can move that temp up or down to whaterev you actually want. it's ust a quick
pre-set range to make it a bit easier.
With both probes in and set to different temps, if you hold the S2 button in for a few seconds, the unit then cycles between both meat probes on the readout every few
seconds, so you can keep track of both. When the temp is reached, it beeps loud enough for you to hear it.
pork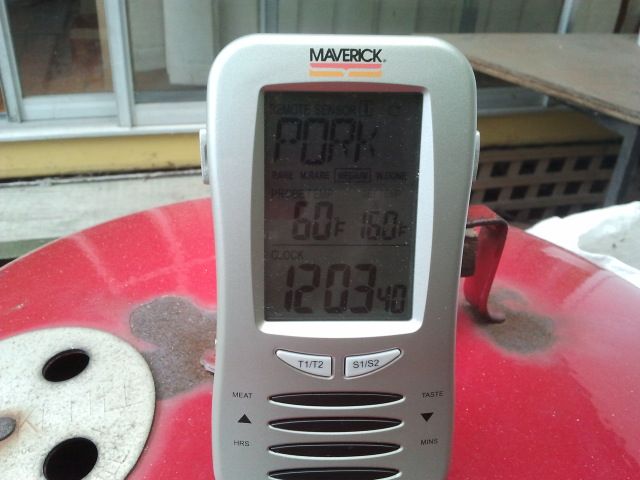 Beef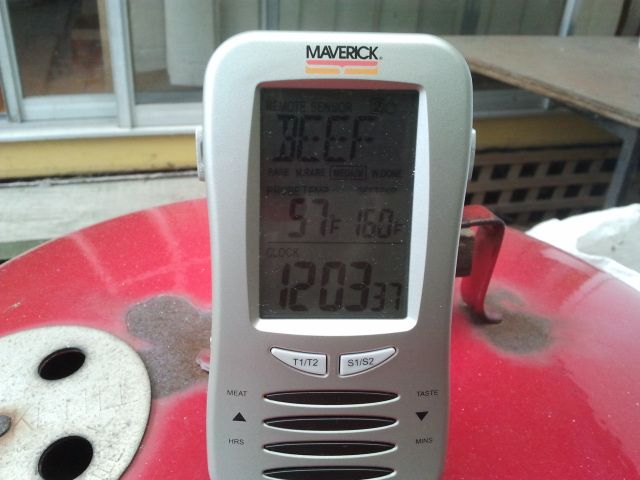 On the wireless side, I have a weatherboard house and it still worked through the outside wall, then through the bathroom, through the hallway until it got to my chair,
where I was watching telly with the base unit next to me. Didn't test the range out in the back yard, simply because I forgot to. Will do that next time.
Depending on the temp inside your grill area, you could also use one of the probes to monitor pit/weber temps but only up to 410f. I didn't test this as I couldn't find
any sort of clip to keep the probe off the grill. But it is something I'll try soon and report back about how it went.
Overall, once I'd figured out the base unit which in all reality took about 5 minutes to master, it really did take my usual worrying out of the cook. Instead of lifting
the lid, losing the heat whilst waiting for my el-cheapo ebay thermometer to eventually tell me the internal temp, this made it a lot more stress free.
Overall, very happy with the unit and the service/discount offered by bbqsplus.
Any other tests someone wants me to test, please ask away.