Hi All,
We're looking to move some GrillGrates before our next order comes in. So, for the month of September we're running a Footy FInals SALE -> all GrillGrates are 5% off - delivered for free to anywhere in Australia.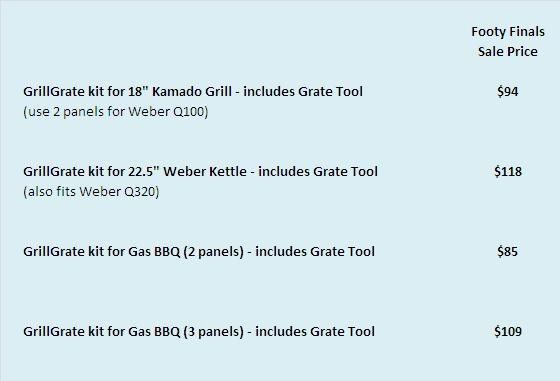 If you have any questions or require detailed specifications of any products, please feel free to contact us on:
[email protected]
Gary 0418 550 465
or
Michael 0402 282 175
And don't forget to like our Facebook page at:
http://www.facebook.com/smokekingbbqsABOUT US
Smoke King BBQs is a local Australian Owned small business, focusing on providing Australians with quality BBQ products. We are a specialist BBQ company, focussed completely on BBQ's and BBQ Accessories. And, as avid BBQ'ers ourselves, we understand the needs of our Australian BBQing customers. We offer a generous warranty and stock a full range of replacements parts - we're here to support our products for the long term.
RETURNS
If you are not 100% satisfied with you purchase you may return it to us within 7 days of receiving the product in the original condition and packaging for a full refund of the Product purchase cost. Return postage/freight and insurance is the responsibility of the Purchaser returning the goods.
POST SALES SUPPORT
Smoke King BBQs stock a full range of accessories and spare parts, so you know you'll be able to maintain your BBQ for many years to come. We can be contacted on email, mobile phone, via Facebook or on the Aussie BBQ/Pittmasters Forums if you have any questions/queries. We also have Facebook page which we use to interact with our customers and followers that lets us share Recipes, Photos, Ideas, Issues, etc.
WARRANTY
The Smoke King BBQs Warranty covers manufacturing faults and breakages/faults that are beyond the normal wear and tear expected from normal domestic use. The Warranty does not cover normal wear and tear; or faults/breakages caused by misuse, accidental or intentional damage. The Warranty also does not cover any items used in a commercial, non-domestic environment.
Smoke King BBQs provides the following Warranty for all products:
Ceramic Kamado Shell 10 Years
All other Products/Parts 1 Year