I couldn't find this anywhere on here, so thought I would post up the photos of Andy Groneman's Australia Visit in Feb 2013
For those of you who haven't read, we ( Grill Pro ) Flew out Andy Groneman from the USA for the Melbourne BBQ Festival as well as the week before.
Andy is a 20 times Grand Champion BBQ Pit Master & Over 20 time Reserve Grand Champion from KANSAS in the US.
Friday night - Pork Ribs
Membrane removed & fat trimmed
A thin layer of mustard & seasoned
Time to wrap
Sorry there are no photos of the finished Ribs, it was late & dark.
Lunch Saturday - Flank Steak in soft Tortilla with grilled onion & peppers.
Trimming the Coorong Angus Flank Steak ( from Meatman )
Marinating with Worcester, Soy, Olive Oil, Lime Juice & Salt and Pepper.
Seasoning with "Mad Hunky" General Purpose Rub
Yoder YS640 set to 550F
The smell is Amazing!
Sliced thinly across the grain
Finished result, what a gorgeous tasty lunch wrap.
Saturday Night - Spatchcocked Turkey, Pig Candy & Scallops on Cauliflower Pure
Turkey Spatchcocked ready to go into the Yoder at 300F
Trimming up the bacon
Bacon sprinkled with "Cattleman's Grill" - 8 Second Ride Seasoning & then brown sugar.
Forum Members Master Class Afternoon with Andy at Stylish House & Garden in Kallista VIC
We thought what a great way to give something back to the members of the Forum, and invite them to a completely free afternoon with Andy cooking & teaching. This afternoon was a huge success with a whole heap of Forum members attending, some from as far away as Adelaide & Sydney. Bob Hart also attended.
All set up ready for the first members soon to arrive...
Andy will be cooking Pulled Pork & Pulled Lamb, Brisket, Ham, Hot Whang Chicken Wings, Scotch Fillets with Whiskey Peppercorn dipping sauce and Mango Jalapeño Planked Salmon!!!
Andy will also show how to correctly trim up a brisket & discuss slow cooking techniques as well as showcasing direct & indirect grilling on the Yoders.
Andy will also be using an aray of US products that we are starting to import into Australia including, Mad Hunky Brand Mest Seasonings, Smoke On Wheels Marinades & Injections, Blues Hog range of sauces and other spices & rubs.
What a menu line up , forum members are in for a treat indeed!
Shooter03 with Andy
Here are a few photos taken by Shooter03:
Andy preparing the ceder planked salmon
That salmon was freaking amazing!!
Here he is pulling the lamb apart
Preparing the MeatMans brisket
And giving it a injection
Here's a piece of one that was prepared earlier
And just a panoramic of the set up
Some photos taken by Yakabot:
Some Scotch Fillets sizzling away on the Grill Grates.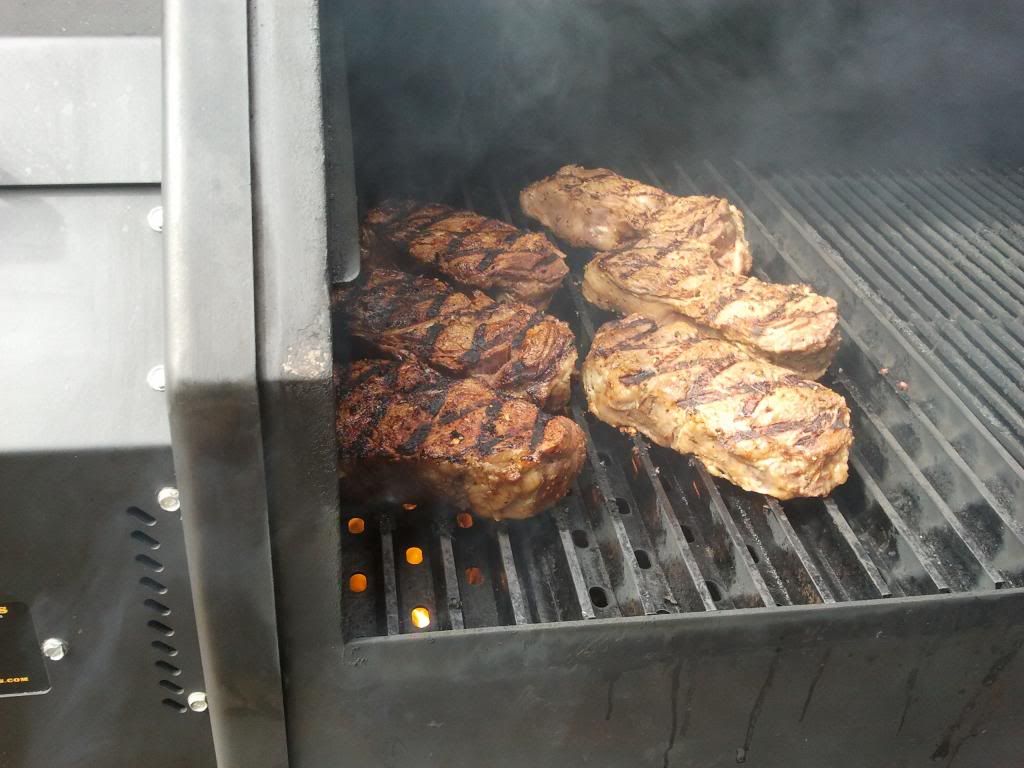 One of the Yoders with tasty meaty treats.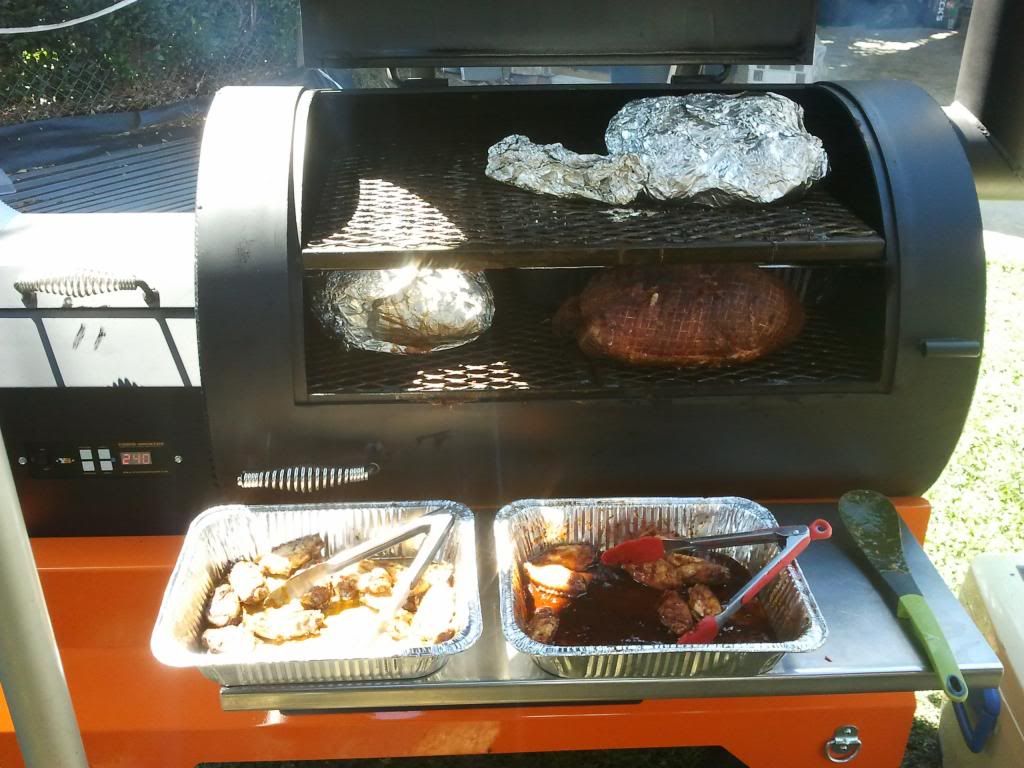 Post & photos by Gumb:
Quote:
I just want to add my thanks especially to Dave, Andy G and Andy (host) - (the place was full of Andys !) and all the guys who set this up for us and gave so much advice and readily answered questions. It was a pleasure to meet a lot of you forum guys as well. And to top it off, Bob Hart turns up too!
A big learning experience and I was super impressed with the Yoders. Everything from low and slow to high sear on the steaks
Looking forward to next weekend but for tonight...no more meat.
I am absolutely stuffed full of pork, scotch, brisket, salmon , chicken wings and even a bit of salad. So many rubs, sauces and flavours, it was certainly a FULL day.
I hit the yogurt and 2 fruits for dinner.
I got some pics off the iphone so here ya go.....
Salmon......Bob Hart said even wombat would taste good under that marinade !
Richard Gunner ( Meatman's ) visit to meet with Andy & taking him to a full carcase butcher in Melbourne
Today we visited a wholesale Meat facility in Melbourne ( organized by Richard / Meatman ) , we took down a Yoder YS640 which we fired up & Cooked pork & lamb ribs as well as some steaks, here are a few photos ...
Andy showed how to cut up a shoulder to obtain the same cuts as in the US.
It was an awesome day & we all enjoyed it so much.
This morning greeted us at 5am & a trip into Melbourne from the Kallista Hills so that Andy could be interviewed by Red Symons on ABC 774
Red is a nice bloke & it was a good interview.
Andy was showing us some photos today of his house in Kansas City in the US.
Back home they have had 26" ( 650mm ) of snow since he landed in Melbourne on Friday.
There is his Yoder YS1320 on Orange comp cart underneath all that snow .... ( he said if anyone wants to know if Yoder Pellet Grills can handle rain, show them this pic
)
Beaver wrote:
some say, Andy sleeps standing up, they say he does this to think like the meat and gain that competitive edge.
I caught him this afternoon Beaver
Redheads Barbecue Festival & BBQ Competition in Melbourne
( Competition Rules were set by Graeme the organiser & NOT by an BBQ Association as wrongly speculated since the event to self promote )
Andy checking out the Yoder Kingman's arrival ......over half a Ton of Kansas Steel "V" pine timber pallet - Yoder 1 / Pallet 0